Is pregnancy a trend? It seems like there is a babyboom in my inner circle. I do not even want to think about it myself. But I can imagine that there are some hot mommas between my audience who would like to read about it. That's why I bring in my sweet girlfriend aka hot momma herself to provide you with weekly bla bla about babies, momlife and, in the meanwhile, look smoking hot. So, meet the new guest blogger from Daphisticated called: Frontrowmum.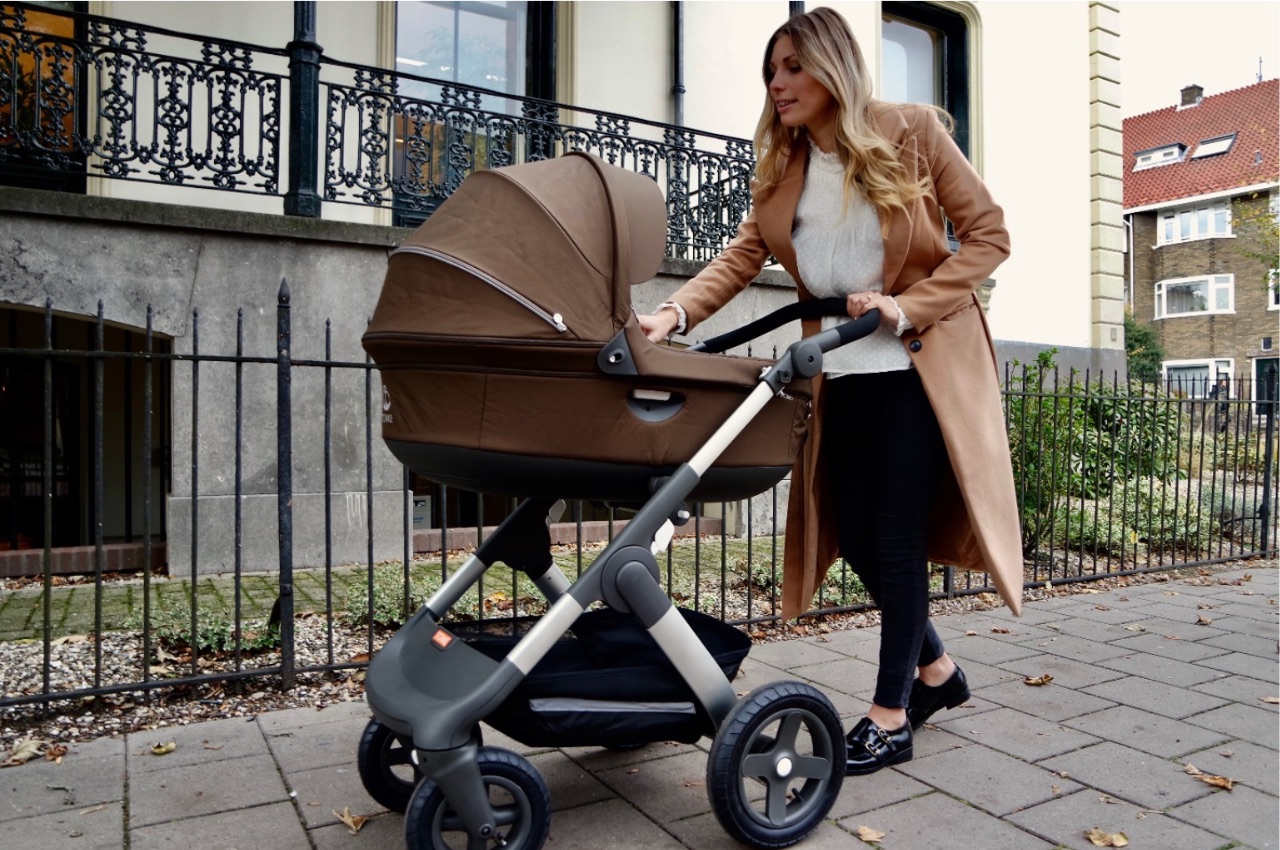 Favorite baby products
As a mommy to be it is very difficult to choose the right products for your baby. There is so much choice. I still know that I went to a baby shop for some orientation and I didn't know where to look. There was so much of it! Ten different strollers, 15 different prams and countless many different blankets … Where did I have to start? Fortunately, I had friends who already had babies and I asked them for advice. One of my girlfriends was well prepared before her baby was born and she had the best of all. She did some good research. (Thanks Nada ;-)). So I've followed many of her tips. In addition, I did some research to the products I would love to have and if the price-quality ratio was a okay. Because really … Baby stuff is so expensive! If you want, you can spend a fortune on it.
Well, here they are… Drum rolls … All my favorite baby products!
Stokke Trailz– Lucky as I am I had the chance to test this stroller when I just started my blog. I choose for Stokke because the brand is known for the good quality. In addition, my boyfriend and I are quite tall and then you need a high stroller, at least I think that's smart. The Stokke Trailz has another reason for being higher compared to other strollers: always keep in touch with your baby and do not bother to give your baby a loving smile or touch. The terrain wheels are ideal for me, because I stroll everywhere.
Sleepyhead/DockATot– The Sleepyhead is really my most used item. Costes sleeps in it, chilling on the couch in it and when I take a shower I put her in it on the ground. When I go to visit friends or family, I also take the Sleepyhead, because you always have a bed with you. Costes sleeps very restlessly (she moves a lot with arms and legs), and in the Sleepyhead she sleeps a lot quieter and therefore longer. When we go on holiday, he goes along too, because there you can put her everywhere.
Bloom Fresco– There is so much choice between highchairs. Before I was pregnant, my eye had already fallen on the Bloom Fresco, because it's such a beauty. So, I was sure I wanted this chair! I use the chair daily. At all the eat-moments I put Costes in her chair at the table. She loves to sit in it and can have a nice look around. When I am cooking I put her in the chair in the kitchen and she can take a look at what I'm doing. The chair is still in the lying position, so I'm curious how it goes if she can sit for herself and when she is getting groceries and fruits instead of milk. Then it will be eaten from this chair and I hope I'm just as pleased as I am now. I think I'll get the fabric part out of it, because else I can wash it every day…
Turnup bodysuits– This is something you do not think about before, because a bodysuit is just a bodysuit isn't it? Well, not so! I swear at turnup bodysuits. With a normal bodysuit you put her had through the suit and you don't make a baby happy with that, especially when they are very young and small. I've been using turnup bodysuits since the beginning, and Costes thinks that's very nice. In the meantime, I can put something over her head, like a t-shirt, but at the beginning when she was very small, she did not like it and I found it very difficult too! You want to be very careful, and you can not really do that with a normal bodysuit. The turnup bodysuits are a bit hard at the beginning (lots of buttons ;-)), but once you have an eye on how it works, it's easy.
Aden & Anaïs hydrophilics – These hydrophilics did I buy when I was in London. I saw the hydrophilics and thought they were beautiful. The normal hydrophilic diapers are just white, this diaper has a nice print and in my case a golden touch. I have the pink with gold and white with gold hydrophilics. In addition to their beautiful appearance, they are also extremely soft. That's why I like them so much.
Cybex CloudQ plus– This carseat is to me the best compared to others. It has a luxury fabric (only the plus version) and that gives this seat a luxury look. The design is very cool. You can turn this seat in a lying position, so your baby can be longer in the seat than the adviced two hours. When in the car you have to keep the seat in the sitting-position otherwise the safety is not guaranteed. I've used the lying position very much when strolling.
Najell Omni– The Najell babycarrier is my finest carrier. I have multiple, but choose each time for this one. The hip- and shoulderstraps are filled and this offers more comfort. Really nice if you're carrying your baby, because I think carrying is heavy! Through the filling it's much easier.
And last but not least I'm very happy with my designerbag which I use as a diaperbag. The Keepall from Louis Vuitton!